Professional Training
with Dave Brown

TRAINER - WRITER - SPEAKER

"If you love what you do, you'll never work a day in your life."

Dave Brown is a firearms safety specialist and professional instructor. He works primarily with government agencies, law enforcement officers and military units on weapons handling, safety and marksmanship.

Learning in the fast-paced world of competitive pistol shooting, Dave trained with some of the fastest and most accurate shooters on earth. After being approached to provide this same type of advanced training to firearms professionals, he began to realize that these skills could save lives and would be particularly useful in the field of police weapons training where instruction at the time was dominated by stationary shooting exercises and outdated techniques. Vowing to approach police training as a science, he studied the performance of the human body under stress and integrated that into modern dynamic shooting techniques. He began writing about his common sense approach to practical firearms training in 1995, eventually becoming one of few civilians considered an expert in police weapons training.

His knowledge of firearms and his high standards of safety led Dave to become one of the primary subject-matter experts in the design of the Canadian Firearms Safety Course. He helped literally write the book on firearms safety in Canada. Dave has now written over 80 magazine articles on firearms training for a variety of publications, been recognized in court as an expert witness and lectured on the science behind police firearms training at the University of Manitoba Law School and at the annual conference of Canadian Association of Journalists.

Widely sought after by the film industry as a firearms specialist, Dave has become an integral part of many movie and stage productions. Considered one of the top firearms safety specialists in the business, Dave was the keynote speaker at the 2002 Halifax conference on Safety in the Film Industry, opening speaker at the 2012 Action on Film International Film Festival in California, keynote speaker at the University of Winnipeg Student Film Festival, guest lecturer at both the University of Winnipeg and University of Manitoba film school and seminar presenter at the 2016 Canadian Institute for Theatre Technology (CITT) Annual Conference.

in 2018, Dave was presented with an Honorary Award for his lifetime of work behind the scenes in the Winnipeg theatre community.

He has now been invited to speak on firearms safety in film in front of numerous groups across Canada and the U.S.
Firearms Safety Coordinator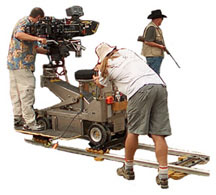 As Firearms Safety Coordinator, Dave Brown advises film and theatre productions on safety issues, trains cast on safety and handling techniques and supervises gun handling on film sets. He has worked with hundreds of talented cast and crew and been firearms trainer to many of the top names in Hollywood.

Known for his calm approach and professional manner, Dave has taught workshops across Canada and in Los Angeles. As well as being interviewed by numerous media outlets over the years, Dave recently appeared on the Discovery Channel to talk about firearms safety in film and helped develop a firearms safety presentation for all IATSE film and theatre technicians across North America.

Tactical Firearms Editor
In 1998, Dave Brown was named Tactical Firearms Editor for Blue Line Magazine, Canada's largest police publication. Always pushing for a better understanding of the science, he has contributed articles on police weapons training, police vehicles and officer survival. In 2007, as a respected expert in the field of police firearms training, Dave was invited to testify in Ottawa before the House of Commons standing committee on national security on the topic of arming Canada Border Service Agency officers.

Training Specialist
Dave Brown helped design the Canadian Firearms Safety Course and Canadian Restricted Firearms Safety Course. He traveled across the country to teach training techniques to other instructors and to train Justice employees on regulations, licence forms and conflict resolution.

Dave has designed and delivered a range of advanced firearms courses to multiple government agencies. He also coached the Canadian Military Police combat pistol team and has trained Military Police units on advanced tactical pistol skills.

Dave has been particularly recognized for his skills in shotgun training for bear defence. His courses have been adopted by multiple government agencies for employees working in bear country, and his unique programs of shotgun training have become widely known for their practical approach to shotgun safety and handling.


SAFETY - ACCURACY - RESPONSIBILITY

Winnipeg, CANADA